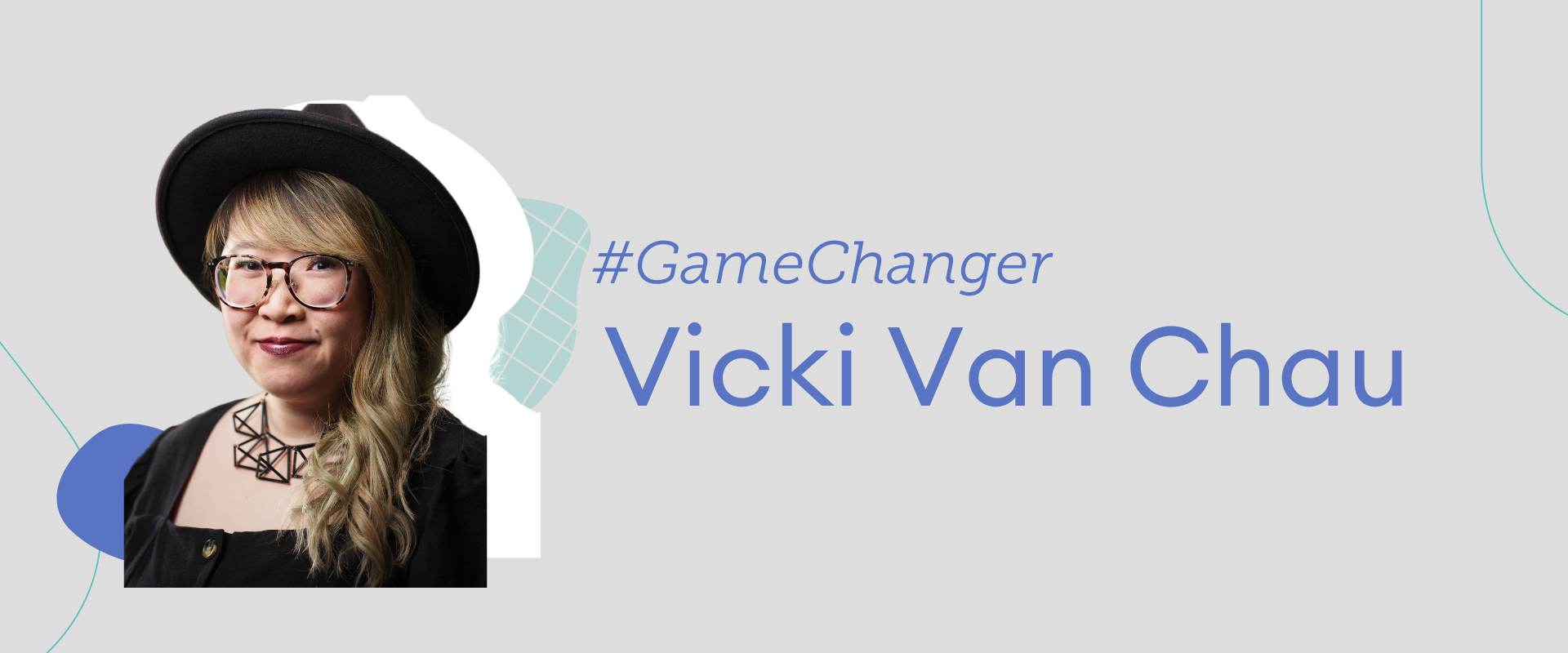 #GameChanger: Vicki Van Chau: Filmmaker and Artist on the Asian Diaspora Experience
Date: May 25, 2022
May is Asian Heritage Month in Canada. This month and beyond, we aim to recognize and celebrate the valuable contributions of Asian people to Canada's social, creative, political, cultural, economic, and scientific landscape.
This month's #GameChanger is Vicki Van Chau, a second-generation Chinese-Vietnamese Canadian who increases representation in her community through short films focused on the Asian diaspora experience. She works to promote the appreciation of both Chinese and Vietnamese culture through a uniquely Canadian perspective.
Vicki is a filmmaker and artist based in Calgary, Alberta, Canada. After 12 years of working as an arts administrator and programmer at EMMEDIA Gallery & Production Society, she left in 2020 to focus on her own film practice. During her time there, she was accepted into the Herland Video Production & Mentorship Program in 2016 and has since produced and directed several award-winning short films that have screened across Canada and internationally.
We interviewed Vicki to learn more about her and her work. Read the full interview below!
Q1: What inspired you to be a filmmaker?

I was always into storytelling utilizing video and photography and after graduating from the Alberta University of the Arts, I started my career in arts administration at the EMMEDIA Gallery & Production Society, a non-profit artist-run centre in Calgary that specifically supports media artists including filmmakers. The artists I met and the art work I was exposed to at EMMEDIA inspired me to focus on developing my own work. When I was accepted into the Herland Video Production and Mentorship Program back in 2016, it gave me my first real chance of working as a film director and that's what really pushed me to pursue filmmaking. I loved the collaborative spirit of filmmaking. I made numerous good friends through this program, many of whom I still work with today.
Q2: Are there any artists you admire? Have they had an impact on your filmmaking process or motivation?

I grew up watching a lot of Asian cinema when I was younger. My dad would bring home films from Hong Kong and Cantonese dubbed Studio Ghibli animations for us to watch. I would say that definitely got me interested in pursuing the arts. When I got into filmmaking, I automatically gravitated to works by prolific Asian directors like Wong Kar-Wai and Akira Kurosawa, but it wasn't until recently when I saw works from younger Asian directors like Jon M. Chu, Lulu Wang and Lee Isaac Chung, that really got me motivated about telling Asian stories happening here in North America that resonated with me. Being mentored by Sandi Somers and the team at Herland really made an impact on my filmmaking process and supporting other female filmmakers in the industry, especially those who are BIPOC, providing a much-needed platform for these voices.
Q3: How has your cultural identity been a core inspiration in your artistic practice? 
As a second-generation Chinese-Vietnamese Canadian, my films tend to highlight both cultures through a uniquely Canadian perspective. As a female filmmaker of colour, it is important for me to represent and support a diverse and inclusive environment through my work. All of my films have a connection to the community that I am a part of, whether it's a collaboration with the Calgary Chinese Orchestra or highlighting Paper Lantern, a local Vietnamese restaurant and cocktail bar, each film has a personal connection that highlights our collective Asian diaspora experience.
Q4: What is one of the films that you have made that you are most proud of? Can you share with us the significance of this film?

I think the film I'm most proud of is PULLED STRINGS, which featured my uncle and his daughter, hand pulling noodles while two Chinese instruments, the Erhu and the Guzheng played in the background. It's a short film that blends together traditional Chinese food and music, demonstrating the passing down of culture and traditions between generations. It was my first film that really got me into the themes of family dynamics and relationships in addition to presenting food in a unique way. The strands of the noodles are melded with the strings of the instruments, and I just love that sort of visual synchronicity. This was also my first film that was funded as a professional artist, so it holds a lot of significance not only as an acknowledgment of my artistic practice, but also a real personal connection, featuring my family members and also the Calgary Chinese Orchestra who I used to play for briefly when I was younger.
Q5: What advice do you have to any aspiring artists, particularly artists of colour looking to tell stories surrounding their identities when wanting to pursue one's own practice?

My advice is to get involved with the local arts community. Volunteer, meet your peers and don't be afraid to ask them to collaborate. You are going to find like-minded people who love what you do and there are artist-run centres and galleries all over Canada who have programs and workshops to support you. Continue to seek out what other artists of colour are creating to get inspired and motivated. There are so many opportunities and initiatives for artists of colour right now, so keep applying for those professional development programs or grants that specifically support BIPOC works to help you grow your own artistic practice.
Thank you Vicki Van Chau. Check out our other amazing #Gamechangers for more!