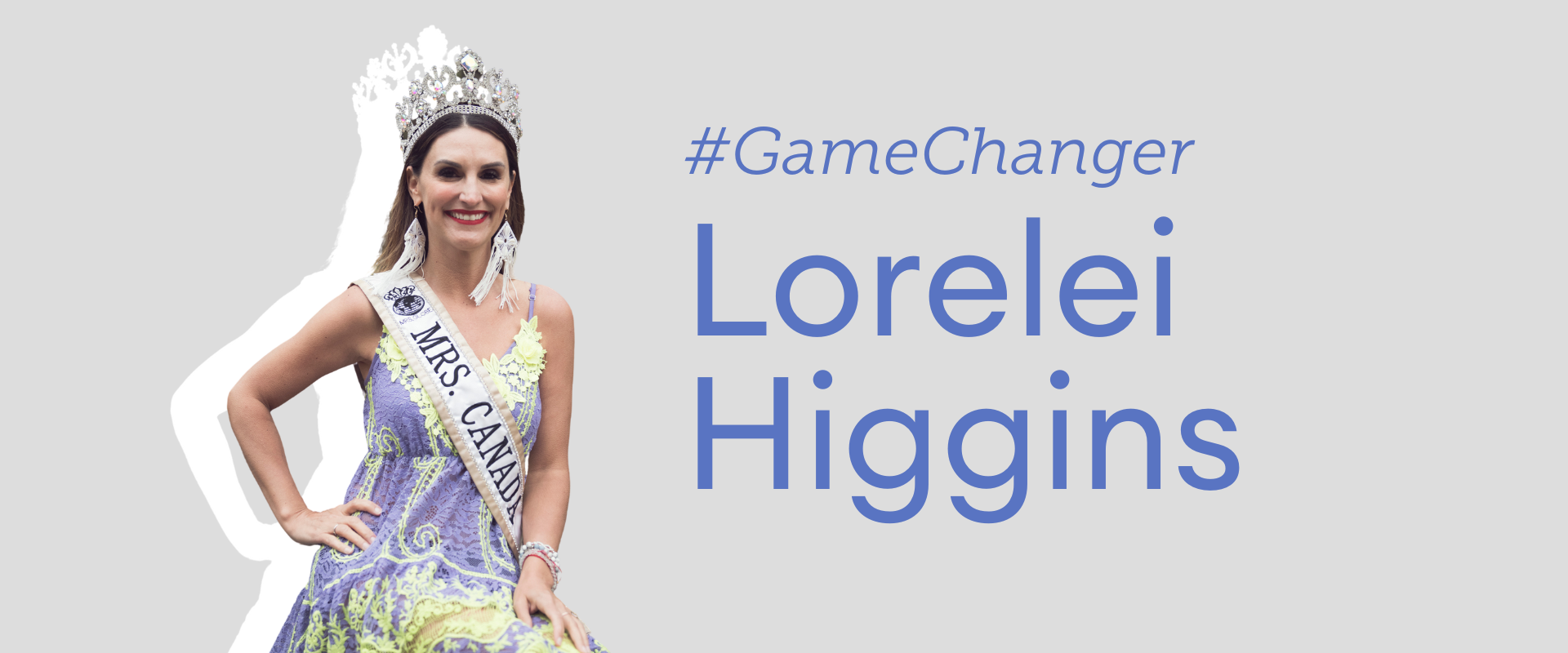 #GameChanger: Lorelei Higgins: Indigenous History Month
Date: June 20, 2022
May is Indigenous History Month in Canada and National Indigenous Peoples Day on June 21st. This month and day is a reminder to dedicate ourselves to reflect on the contributions, culture, and strength of Indigenous Peoples. It is also a time to re-dedicate ourselves to the promise of reconciliation with Indigenous Peoples in Canada, as well as reflect on the actions we promised to make throughout the year to advance reconciliation and continue to work towards them.

This month's #GameChanger is Lorelei Higgins. Lorelei is a Métis Canadian Cultural Mediator, a Rotary Peace Fellow and Positive Peace Activator as well as a Governor General's Canadian Leadership Program alumna. She has worked on community-based projects locally and internationally with government agencies, non-government organizations and the business sector. These projects have centered on peace and conflict transformation, Indigenous matters and the elevation of female voices in leadership. Lorelei has worked across the globe in communities in Africa, Asia, Europe, North America and South America. She is also the Community Lead for the City of Calgary's Anti-Racism Program and is working to advance The City of Calgary's anti-racism journey as well as commitments to Truth and Reconciliation. 
We interviewed Lorelei to learn more about being Métis and winning Mrs. Canada, how to work towards being an everyday peacebuilder, and committing to reconciliation with Indigenous Peoples. Read the full interview below!
Q1: You are Mrs. Canada 2021 and in 2022, you have won Mrs. Globe contestant of the year, placed in the top 10, and won the friendship award. Can you tell us about what it was like being a Métis woman competing and succeeding in the pageant?
I feel so proud to be Métis and to be representing Canada on the global pageant stage! It feels a bit surreal! In the recent competition in Palm Springs, I was so excited that another Indigenous Canadian woman, Karen Gaudry, also placed in the top 10. We are ecstatic to be making history together! I have been so supported by so many communities including my Indigenous Elders, the Métis Nation, the international peacebuilding community and the various communities I am part of across Canada. Through my role as Mrs. Canada Globe, I continue to meet so many people around the world. This crown has travelled with me to the United States, Mexico, El Salvador, South Africa, Germany, Holland, Italy and French Polynesia.
I love that this crown has become such a point of connection. What starts out as a conversation when people see the crown turns into further connections and before you know it, stories are being shared around a family table while we share a meal. I have always been a person who values authentic connections and being able to do this as part of my role as Mrs. Canada Globe is an honour I will never lose sight of.
Q2: Have there been any new developments at the pageant since you've started competing?
I will continue to represent Canada on the global stage and will get a chance to compete in China in 2023 for the title of Mrs. Globe. I am so excited about this opportunity as I keep hearing what an experience it is. This is all dependant on the global state of affairs and the continued impacts of the pandemic.
Q3: Can you tell us about peacebuilding, your peacebuilding journey and how others can take action to be everyday peacebuilders?
Peacebuilding is something we can all do! In fact, when I started peacebuilding, I didn't even know I was doing it. My peacebuilding journey started as a Rotary Exchange student while I was in South Africa more than 23 years ago.
I was simply connecting in positive ways in community, engaging in cross-cultural sharing and contributing to the growth of healthy communities through service and development projects. I thought I needed very formal diplomatic training in order to even use the word peacebuilding.
What I have learned over the course of my life is that peacebuilding is about the things you can do every single day to make positive differences. One of the most incredible female peacebuilders, Irene Santiago, says that peacebuilding is about increasing connections and decreasing dividers. Where can you be a source of connection? What can you do to decrease dividers?
Peacebuilding can seem complex. Start where you are. It starts with showing up! Here are a few ways you can take action to be an everyday peacebuilder:
Make connections with neighbours. Get to know each other. Help create belonging.
Volunteer in your community. Create opportunities for others to volunteer as well.
Help create community gathering spaces and opportunities to gather. Things like community gardens, pantries, tool lending libraries and little libraries are amazing ways to peacebuild. They give a place gather and a place to exchange information and resources.
Engage in dialogue. Let the kitchen table be a place of discussion and invite others to join you.
Be curious. Try new restaurants, shops and events. Share these experiences.
Be wildly inclusive. I believe that the shared path forward requires all of us. How can you bring a wide array of people into different spaces? Where can you move over and create more space for others?
Q4: How can others commit to and work towards reconciliation with Indigenous Peoples?
At the heart of truth and reconciliation lies the willingness to seek out truth and engage actively in relationship. Truth means actively pursuing information about our histories and present-day realities, asking hard questions and finding out more about what we don't know. Reconciliation is about establishing and maintaining a mutually respectful relationship between Indigenous and non-Indigenous peoples in Canada. So, keep learning and keep building positive relationships!
Learn about the diversity of Indigenous peoples in Canada and learn some Indigenous languages, especially local Indigenous languages. How often do we travel and take the time to learn the basics of how to communicate where we are? Do we ever do that right on the ancestral lands where we live?
As much as possible, join Indigenous community events and support Indigenous owned businesses. There is so much to share and so much to rediscover together. Let the journey of truth and reconciliation be an invitation to join in cross-cultural sharing that leads to a positive shared path forward and a future where we all belong. Let this path be grounded in the Ways of Knowing, Being and Doing of the Original Peoples of these lands. Maarsii.
Thank you Lorelei Higgins. Check out other amazing #Gamechangers for more!