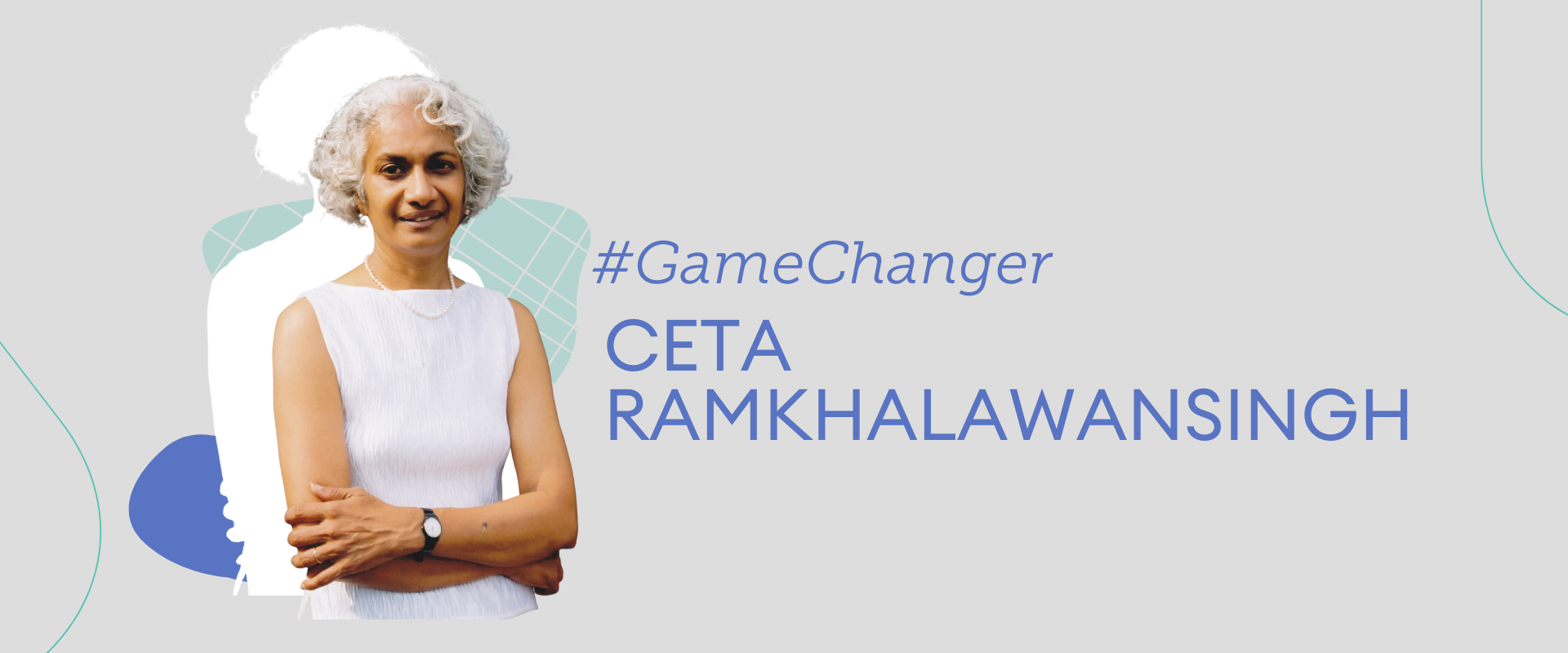 #GameChanger: Ceta Ramkhalawansingh: Feminist Human Rights Champion
Date: September 09, 2021
Meet Ceta Ramkhalawansingh – she is a feminist human rights advocate, city builder, and community activist. Among her many accomplishments, Ceta is a co-founder of Women's Studies at U of T, which has grown into the Women and Gender Studies Institute today.
For nearly 3 decades until her retirement (2010), she managed the City of Toronto's corporate programs on equity, diversity, and human rights. Prior to that, she was a lecturer on women's studies, a policy analyst, and a social policy researcher. In July 2014, Ceta was appointed by Toronto City Council to fill a vacancy as the Councillor for Ward 20 Trinity Spadina.
We interviewed Ceta to learn more about her and her work. Read the full interview below!
Q1: Can you speak on your role in co-founding the Women's Studies Program at the University of Toronto and the creation of a scholarship in your name? 
My university career began in 1968 at New College, University of Toronto (UofT) after my family moved to Toronto from Trinidad and Tobago in 1967.
In my first year I noted blatantly discriminatory practices/policies against women as well as invisibility of women and minorities in curriculum.
By my second year at UofT, I was active in student government and as a student member of the Interdisciplinary Studies Department (ISD) Committee. At ISD's open house in 1970, a proposal to include women in the department's course list was presented. Once approved as a course offering, planning group of students began to collaborate on the structure, reading material, assignments and teaching philosophy of the course. This group evolved into a "teaching collective" of which I was a member.
The first ISD course on women's studies began 50 years ago, in the fall 1971. Aside from teaching a section of the course, I was actively involved in promotion and fundraising to offer a public lecture series along with campaigning to save the course. The course subsequently moved to Innis College and then to New College. That single course has evolved into what is now the Women and Gender Studies Institute (WGSI) with multiple course offerings as well as an independent status to offer graduate degrees.
After completing my undergraduate and graduate degrees along with residency requirements for a PhD, I accepted a position in 1981 at Toronto City Hall where I worked to develop and implement equality and human rights policies and programs.
In 1985, to recognise the centenary of women being admitted as students to the UofT, I proposed that an undergraduate City of Toronto Scholarship in Women's Studies be established. In 1977 a graduate scholarship was added to complement the undergraduate scholarship. It is always very interesting to be involved with the scholarship selection process and to read about the research being undertaken by emerging feminist scholars.
In March 2020, the WGSI agreed to the creation of a scholarship in my name to be offered to an undergraduate student in Women's Studies or Caribbean Studies. Family and friends have contributed to the scholarship fund. It was an honour to read a tweet from long time friend and noted author Margaret Atwood, who encouraged donations to the scholarship.
Fifty years ago !!!! (Can it be?) my dear friend @CetaR, serene of smile and steely of will, helped found Women and Gender Studies at @UofT. Now a scholarship is being started in her name. Join me in donating at https://t.co/3KZbiwJvPT Any amount valued!

— Margaret E. Atwood (@MargaretAtwood) January 19, 2020
Atwood had ties to the course having given a lecture in 1973 as part of the public lecture series. The first scholarship will be offered in the Fall 2021 to mark the 50th anniversary of the first ISD course in Women's Studies.
Q2: You devoted a large part of your career to fighting for social justice at City Hall. What were some of your biggest highlights and accomplishments, including putting forward a motion to change the words of "O Canada"?
After working at City Hall for about 3 decades, I retired in 2010.
Among the City Hall highlights are: the establishment of hiring targets for employment equity designated groups, the introduction of a robust anti-discrimination policy as well as Human Rights and Workplace Harassment Policy, implementation of accessibility policies as well as the adoption of Statement of Commitment to the Indigenous Communities of Toronto. Policies and programs to address to immigrant settlement, literacy, community development, policing, and citizen engagement were implemented. We also developed tools such as an equity lens and guides to implement employment equity and diversity, human rights and equity programs.
In 2014 I returned to City Hall as a City Councillor to fill a vacancy created by a by-election result to the House of Commons.
During my term on City Council, I proposed the creation of a Toronto Book Garden at Harbourtfront Centre to celebrate the recipients of the City of Toronto Book Awards, making the national anthem gender inclusive, and a host of community-building initiatives through funding arrangements (known as Section 37) for community benefits and more.
Q3: Can you tell us more about your social advocacy work as a citizen activist?
In the downtown Toronto Grange neighbourhood where I have lived for over 50 years, I have been involved with protecting and building affordable housing, heritage preservation, advocating for appropriate land-use planning and expansion of green space.
I've served on the boards of several non-profit organizations over the years, including the YWCA Toronto, MATCH International Centre., Friends of Fort York, Diaspora Dialogues, Grange Park Preservation Group. Presently I serve as Board Chair for the Learnxs Foundation, The Word On The Street Canada and the Harold Innis Foundation. I am also a board member of the Toronto Foundation, the Grange Community Association, Grange Park Community Council and I am a Principal's appointee to the Innis College Council.
My academic background included contribution of an essay on the Great War to the Women's Press Women at Work: Ontario 1850 to 1930, the 1975 recipient of the City of Toronto Book Award. I have also contributed to several books and journals and was editor of special issues of Resources for Feminist Research on "Equal Pay" and on "Women and the Politics of Multiculturalism". As chair of the Learnxs Foundation, I oversaw the publication of a range of learning materials with the Toronto school board, including A Breath of Fresh Air and the award winning Art for Enlightenment. It has been an honour to see my work recognised with several awards including the 2017 YWCA Toronto Woman of Distinction Award, Arbor Award (2001 U of T), Constance Hamilton Award (2012 City of Toronto), Honorary Member, Women and Gender Studies Institute (2002 – U of T), New Pioneers Award (1999 – Skills for Change).
Q4: What is the most valuable lesson you've learned in your career?
There are a few lessons that I can share.
First, to make change one must work with allies and be strategic and flexible with goal setting;
Second, celebrate accomplishments and recognise the contributions of others.
Third, be authentic.
Thank you Ceta Ramkhalawansingh. Check out our other amazing #Gamechangers for more!
Image Credit: City of Toronto