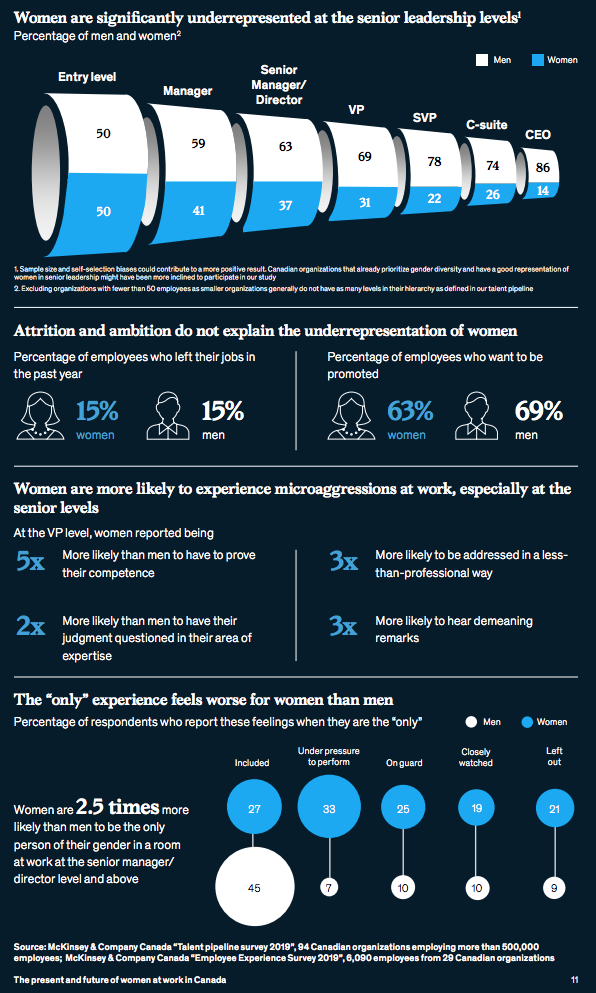 McKinsey's 'The Present and Future of Women at Work in Canada' Report
Date: July 04, 2019
Canadian Equality Consulting was pleased to assist and advise McKinsey in the creation of this report.
The full report can be found by clicking here.
The future of the Canadian economy holds opportunities for women but to capture them, women will need to successfully re-skill and transition.
Automation and technological advances pose unprecedented opportunities and challenges to workers across Canada's economy. Both men and women will need to navigate a wide-scale workforce transition, moving from lower-wage and lower-skilled to higher-wage and higher-skilled jobs. For women, who already face inequalities in the workplace, this transition will be pivotal. Building on the McKinsey Global Institute's 2017 research, The present and future of women at work in Canada looks at how well women and men in Canada are positioned for future jobs and examines existing gender inequalities in the workplace more closely. It also proposes a practical road map for organizations to follow in progressing toward achieving gender equality in the workplace today and in the future.
McKinsey research suggests that Canada is now at an inflection point, with an opportunity to narrow the gender gap: if between 8 to 30 percent of women (or one to three million women) can successfully transition across occupations to high-demand parts of the economy, they could maintain or even modestly increase their share of employment by one to two percentage points by 2030. However, if structural barriers and existing inequalities in the workplace prevent women from making these transitions and acquiring the skills needed to stay in the workforce, women could fall further behind, and gender inequality at work will persist.
In Canada, 24 percent of currently employed women could be at risk of their jobs being displaced by automation, compared with 28 percent of men. Women are also relatively well positioned to capture jobs in certain high-growth sectors—such as healthcare, where women account for 81 percent of employees. On the surface, this paints a positive picture for women—but they could also face more hurdles in navigating these transitions, presented by gender inequalities in today's workplace, the wage gap in existing occupations and sectors, and the double burden of unpaid care work. Supporting women in navigating these transitions could ensure that progress toward gender equality is not undermined.