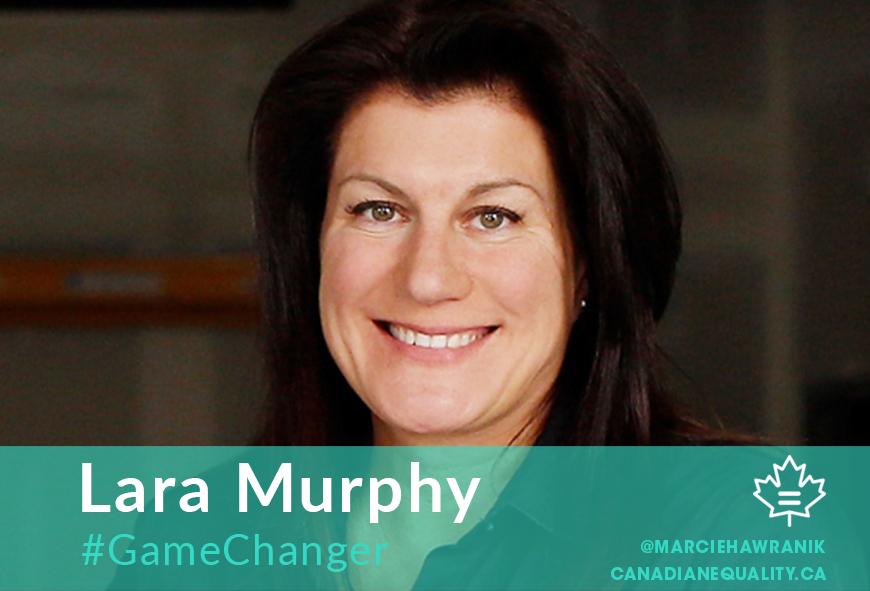 #GameChanger Lara Murphy
Date: November 13, 2018
Let me introduce you to Lara Murphy. She started her first construction business at 16, advertising by handing out flyers door to door. During her studies at Mount Allison University, she had the opportunity to run several additional businesses within the construction industry. Travelling internationally while playing soccer magnified her love of architecture and Lara formed Fresco, a heritage restoration firm.
In 2008, Lara co-founded Ryan Murphy Construction Inc. with business partner, Karen Ryan. Since that time RMC has grown to work nation wide. With a diverse portfolio including brands like the Gravity Cafe, UNDRCARD Boxing Studio, Telus Spark, Urban Systems, Junction 9 Yoga, Village Ice Cream and The Vin Room.
They have been recognized and featured by The Globe & Mail, PROFIT 500 (ranking #1 fastest growing YYC business in 2016), Canadian Business (Top 100), Chatelaine, Alberta Venture (Fast Growth 50) and MacLean's Magazine.
Ryan Murphy is proud to partner with several community initiatives including Calgary Reads, SAIT, Fast & Female, Accessible Housing, Scotia Bank Charity Marathon, YWCA, The Boys & Girls Club and Beaker Head to name a few. Lara currently functions as the Director of Business Development and Strategy for Ryan Murphy Construction Inc., serves on the YWCA  Board of Directors and several advisory committees.
Interview with Lara Murphy on being a #GameChanger:
Q1.What is the best piece of career advice you have received?
Lara: BE SEEN. Put yourself out into the business community… Selflessly connect and elevate others. You will need to trust your instincts to do this. Become a master of problem-solving.
Q2. What are some strategies that can help women achieve a more prominent role in their organization?
Lara: Find a mentor and not just a mentor that supports you but one in your industry who understands you, your product, the clients you serve and what your goals are for the future. I have also gained so much by joining associations, boards and simply by saying yes!
Q3. What is it like being a leader in a male-dominated industry?
Lara: If you know your industry and your team, success will come to you no matter the industry you are in. Do what you know and do your best and don't let the competition get you down. Building trust and loyalty is an integral part of any leaders ability. Don't underestimate this. Construction has no shortage of bad experience stories and everyone has a "contractor story." We aim to change this perception by working honestly, educating our clients and in turn helping them achieve their dreams. Put yourself in your client's shoes and always be aware of how the decisions you make impact others.
Q4. What was the greatest obstacle that you encountered in your career and how did you overcome it?
Lara: Get comfortable being uncomfortable. As a leader, building resiliency is key. You won't win them all, but if you don't try, you win none. As Michelle Obama says, "Fail up"- success is built on a series of failures.
Thank you Lara Murphy. #GameChanger