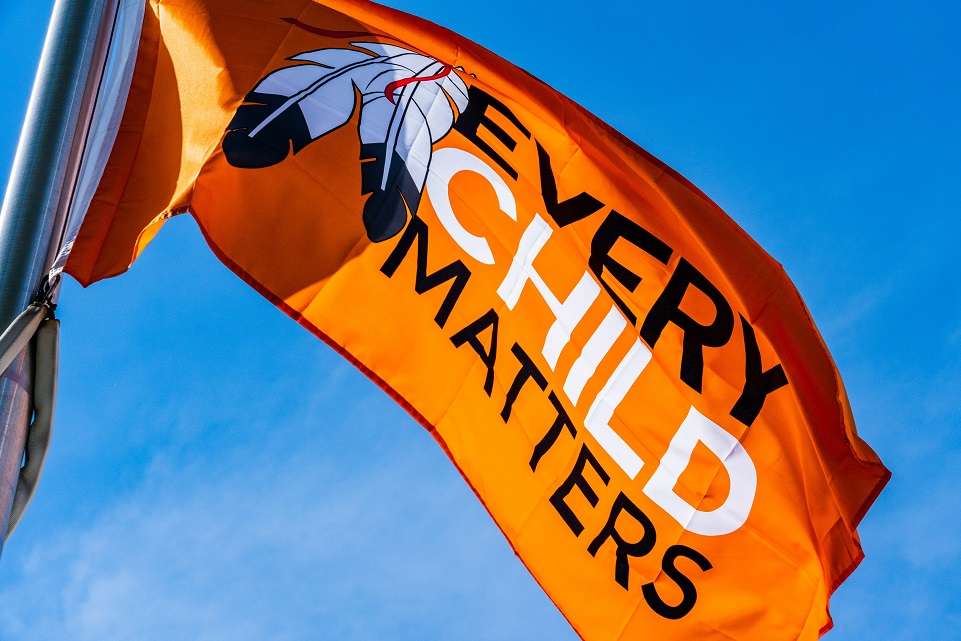 Honouring Canada's Day for Truth and Reconciliation on September 30, 2023
Date: September 28, 2023
Trigger Warning: Mentions of residential schools, colonial impacts & violence against Indigenous Peoples.
On September 30th, we honour and commemorate the intergenerational survivors, and lost children of residential schools who were stolen from their families. We take time to reflect, and to learn about the legacy of residential schools and its continued impact on survivors, families, and communities. September 30th, and every day, it is our responsibility to commit to ongoing education and growth, build respectful relationships with Indigenous Peoples, donate to Indigenous organizations, and commit to non-performative allyship.
On June 3, 2021, Parliament recognized National Day for Truth and Reconciliation as a federal statutory holiday.
What is Truth & Reconciliation?
Seeking to understand the Truth of the history of Turtle Island (North America) is a critical component to Truth and Reconciliation. This includes learning about colonization and its continued impacts, recognizing the harmful impacts and continued legacies of the Indian residential schools, taking accountability by acknowledging the wrongs of the past and taking action to work together to make positive changes.
Reconciliation is about relationship.
". . . Reconciliation is about establishing and maintaining a mutually respectful relationship between Aboriginal and non-Aboriginal peoples in this country. In order for that to happen, there has to be awareness of the past, an acknowledgement of the harm that has been inflicted, atonement for the causes, and action to change behaviour." – Truth and Reconciliation Commission (TRC)
Why do we need truth & reconciliation?
The traditional lands, practices, values, cultures, languages, systems, and understandings of Indigenous Peoples have been systematically dismantled and destroyed by through assimilation and colonial systems across Turtle Island. Reconciliation means working every day in a spirit of mutual respect and understanding.
History of TRC and the Calls to Action
The Truth and Reconciliation Commission of Canada (TRC) was built through a legal agreement between Residential School Survivors, the Assembly of First Nations, Inuit representatives and the federal government and church bodies (responsible for the creation and operation of the schools).
In 2015, the TRC concluded its mandate, and the National Centre for Truth and Reconciliation (NCTR) was handed the records for safekeeping.
The TRC's Purpose and Goals
The TRC's main job was to inform Canadians about the harsh realities endured within the residential school system. It was to document experiences of Survivors, their families, communities, and anyone affected by these schools. This included former students from First Nations, Inuit, and Métis backgrounds, their families, the communities, churches, school staff, government officials, and other Canadians.
The council had seven goals:
Acknowledge residential school experiences, impacts and consequences.
Provide a holistic, culturally appropriate and safe setting for former students, their families and communities as they come forward to the Commission.
Witness, support, promote, and facilitate Truth and Reconciliation events at both national and community levels.
Promote awareness and public education of Canadians about the IRS system and its impacts.
Identify sources and create as complete a historical record as possible of the IRS system and legacy.
Produce and submit to the Parties of the Agreement a report including recommendations to the Government of Canada concerning the IRS system and experience, including: the history, purpose, operation and supervision of the IRS system, effect and consequences of IRS (including systemic harms, intergenerational consequences and impact on human dignity), and ongoing legacy.
Support commemoration of former Indian Residential School students and their families in accordance with the Commemoration Policy Directive.
One main part of the TRC's work is the 94 Calls to Action – a set of actionable recommendations that provide a roadmap for reconciliation. The recommendations are meant to acknowledge the full, terrifying history of the residential school system and create systems for it to never happen again.
94 Calls to Action
These Calls to Action are vital in mending the historical wounds and fostering a stronger, more equitable future for all Canadians. They cover areas such as child welfare, education, health, justice, and language revitalization, emphasizing the importance of acknowledging the past while working towards a more equitable future.
For instance, CTA #1 calls on the government to reduce the number of Indigenous children in the child welfare system by providing resources to Indigenous communities and cultural competence training to social workers. CTA #1 is partially complete.
According to Beyond 94, as of June 2021, only 12 calls to action have been completed. Read the full report with all 94 calls to action here.
How Your Team Can Honour the Day Respectfully
The National Day for Truth and Reconciliation is an important day for workplaces to come together and reflect on the effects of residential schools its continued impact. It's a day to reaffirm our responsibility to commit to ongoing education and growth, build respectful relationships with Indigenous Peoples, donate to Indigenous organizations, and commit to non-performative allyship.
Actions Workplaces Can Take
Encourage education: One option is to create a workplace book club and encourage people to read a book by an Indigenous author or that covers Indigenous history or perspectives. You can also offer options for staff to learn more about Indigenous history and reconciliation. This can be done through website resources, books, or university classes. A few options include the Indigenous Ally Toolkit, One Canada Project – Settlers Take Action, The University of Alberta free online course, The First Nations University of Canada free learning module: Four seasons of Reconciliation.
Donate to Indigenous causes and organizations on behalf of your organization.
Organize Educational Workshops: Arrange workshops, webinar, seminars or round-table talks that focus on reconciliation efforts and Indigenous histroy, perspectives and culture. Invite Indigenous speakers or experts to share their knowledge.
Engage in Meaningful Discussions: Encourage team members to participate in open and respectful discussions about the TRC, Indigenous history, and the ongoing journey of reconciliation.
Participate in Indigenous-led Events: Support and attend Indigenous-led events or activities in your local community as a team.
Reconciliation Action Plan: Develop a trackable reconciliation action plan that outlines steps your workplace will take to contribute to reconciliation.
Continuous Learning: Encourage ongoing learning and dialogue about issues faced by Indigenous communities. Consider hosting regular workshops or events focused on reconciliation.
Show Leadership: When you find a resource that resonates with you, share this throughout your network and worplace to encourage others to learn as well.
Putting the TRC Calls to Action Into Real Action
It's important that beyond learning about the calls to action, we translate our intentions into tangible actions towards reconciliation with Indigenous Peoples and foster genuine allyship on an individual level.
Steps towards action
Educate yourself – read the 94 calls to action.
Advocate for change – advocate for Indigenous rights and issues and support policy changes that align with the recommendations put forward by the TRC.
Write to representatives – reach out to your local, provincial and federal representatives to express your support for reconciliation initiatives.
Support petitions – launch or sign petitions in support of the calls to action.
Join demonstrations – participate in protests, demonstrations and rallies advocating for Indigenous rights and reconciliation.
Effective allyship
Genuine allyship towards Indigenous Peoples involves ongoing learning, dedication and support. Here are some ways to actively contribute to positive change:
Continuous learning: Listen to Indigenous voices, stories, and experiences. Commit to ongoing learning about reconciliation, Indigenous cultures, histories, and contemporary issues impacting Indigenous communities.
Amplify Indigenous Voices and Perspectives: Use whatever platform you have available to amplify Indigenous voices and perspectives.
Respect Indigenous Practices: Understand and respect Indigenous practices, such as land acknowledgments and cultural practices.
Support Indigenous-owned: Support Indigenous-owned businesses and encourage others to do the same.
Engage in Dialogue: Foster open and respectful conversations about reconciliation within your social circles, workplaces, and beyond.
Commit to Improvement: Continuously reflect on your own biases and prejudices and work towards becoming a better ally each day.
As we commemorate the Day for Truth and Reconciliation, it's important to note that reconciliation is not a one-day event but a lifelong commitment. By putting the TRC Calls to Action into real action and actively participating as allies, we contribute to a more equitable future for all.