#GameChanger Dr. Sarah Rosanel
Date: May 20, 2020
Canadian Equality Consulting is thrilled to present our next #GameChanger.
Identifying game changers is key to continuing Canada's conversation around diversity, equity and inclusion. We are making connections with individuals tackling complex problems and issues in their own industries and workplaces – and Canadian Equality Consulting is featuring them to ensure their story is told. In an age where we often only here from a singular viewpoint through media stories we know it is essential to give profile to those leaders paving the way for innovation and excellence in their field.
As the discussion about COVID 19 continues around the globe this #GameChanger feature opens our eyes to the actual individuals fighting on the frontline.
Meet Dr. Sarah Rosanel, a Cardiovascular Medicine Fellow in the Department of Cardiology at Maimonides Medical Center.
Dr. Rosanel has been assigned to fight on the frontlines of COVID 19 at Maimonides Medical Center in New York. She is dedicated and passionate about medicine and has been working multiple 24-hour shifts since the outbreak of the virus with very little breaks. Her social media accounts have opened a rare window into the life of a doctor on the frontlines of the virus and illustrate the heavy PPE required, the risks that our healthcare workers are enduring daily, the sacrifices that they make to keep us safe, her undying commitment and passion to medicine and science break-throughs, and shed a light on the hope and positivity ever present in her community.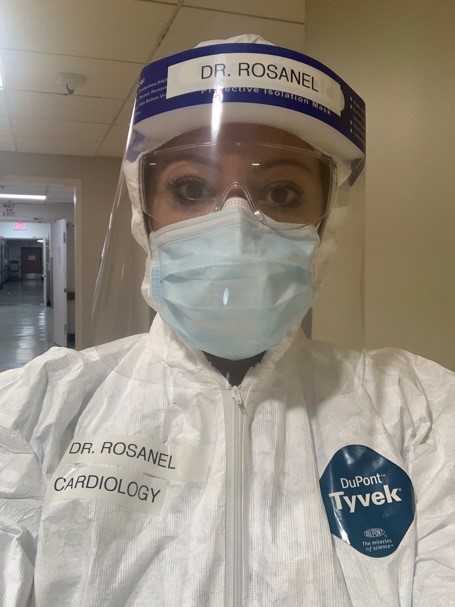 Dr. Rosanel was born in Casablanca, Morocco and grew up in Paris, France. She moved to New York when she was 17 years old and attended college at Yeshiva University – Stern College for Women where she graduated with a BA in Biochemistry.
Dr. Rosanel was always involved in research so she decided to dedicate a full year to conduct research at NYU after college. She continued on her medical journey to study in Israel at the Technion Israel Institute of Technology with its world-renowned research facilities known for its many Nobel Prize laureates. Dr. Rosanel felt privileged to work with one of them.
She then returned to NYC to complete her Internal Medicine residency in Brooklyn at Maimonides Medical Center where she is currently completing her Cardiology fellowship.
Dr. Rosanel loves children, teaching, swimming and photography. She is also an avid traveler, who has lived on 3 different continents, speaks multiple languages and visited over 40 countries.
Interview with Dr. Rosanel
1. Tell us more about your position and your journey getting there?
My journey was many years in the making with tears and lots of struggles along the way. There were a lot of ups and downs and countless sleepless nights. This all started at the age of 17, as a young ambitious girl coming from Morocco to NYC to become a doctor. One biochemistry degree, a couple of years doing research, one Medical degree, one Internal Medicine residency, 3 beautiful children later and here I am.
I am a board-certified Internal Medicine Hospitalist and a cardiologist in training. I am 34 years old and have not stopped studying. I was born in Morocco, grew up in France and came to America to study Medicine. I went to college in NYC, attended medical school in Israel, then returned to the U.S. to complete my training as a resident in Internal Medicine.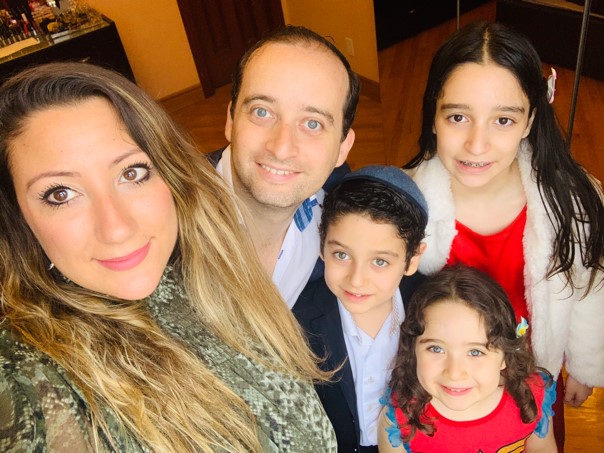 In the hospital, I deal with life and death situations and often have 24-hour shifts. "How can you stay awake?"- frequently asks my husband. More often than not, I do not blink an eye at night, I am tired after such a shift but happy to be reunited with my family after not seeing them for 24 hours. So, I push a little more each time. As soon as I reach home, I run barefoot to the shower for the decontamination process and then finally the moment that I waited for all day – hugging and kissing my husband and my kids.
2. You have been very transparent and inspiring in showing the outside world the reality of COVID 19 for health care workers. How has your experience been on the frontlines of the pandemic response?
A lot of people are asking me "how does it feel to be on the frontlines? How do you do it? How can you witness people dying every day and go back to work?
And to be honest, I do not know. It is traumatizing work and the nature of the virus is beyond our control. What a whirlwind of emotions these past few weeks have been. Seeing some of my patients dying was heartbreaking. The look in their eyes while being short of breath and gasping for air will never leave me. However, seeing others leave the hospital after a prolonged hospital course is uplifting.
I never thought that becoming a doctor would have meant putting my life and my family's life in danger to save people. And yet, here I am, gearing up. Multiple layers of clothing are hiding behind the full bodysuit, masks, eye protection, head cover, shoe cover… is it enough?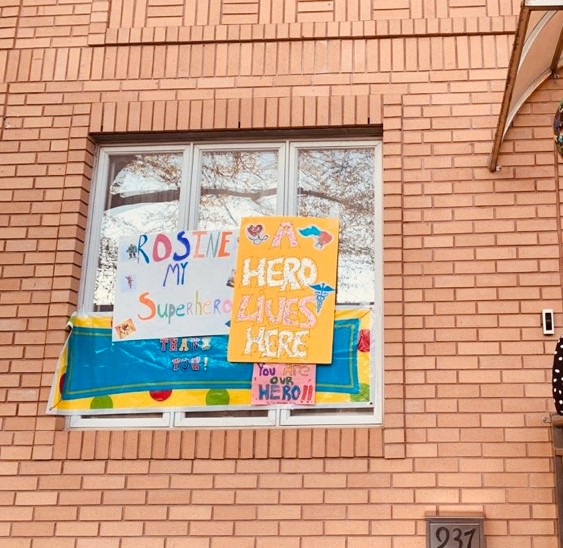 My hospital in Brooklyn, NY had more than 450 cases, we were at the epicenter of the pandemic, we would hear overhead "anesthesia stat" for intubation, continually placing patients on respirators, and "code 3" for cardiac arrest pretty often.
Is it scary? Yes. Is it overwhelming? Yes.
This pandemic has also brought us closer despite the isolation and the social distancing. I have witnessed the incredible generosity of humankind: strangers have donated masks, bodysuits, phone chargers, power banks, money, fleeces and food. They have given us so many words of encouragement, love and support for us to survive, to keep going and to never give up.
4. What are your predictions for the future with COVID 19?
Cases are declining, we have less than 200 cases currently (at one point we had 450 cases in house), we safely discharged 967 patients, but we also lost a lot of patients (unsure about the exact numbers).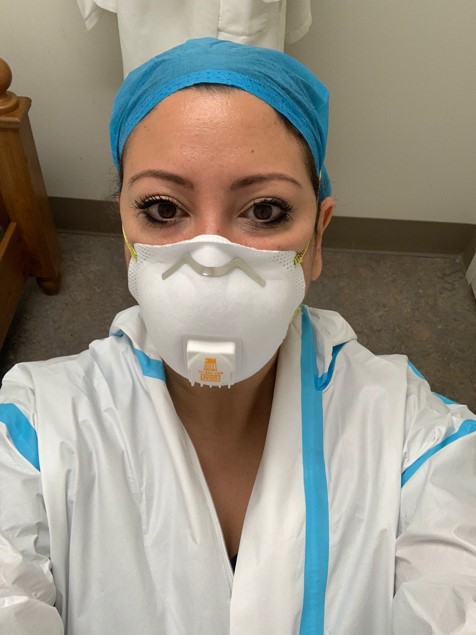 People are starting to wear masks on the streets. They are getting a feel of what we go through each day. We do not just wear a simple face mask, we wear an N95 (it has a better seal, fits tighter to our skin, leaves marks on your cheeks and nose because it is so tight) under a simple face mask to be able to preserve the N95 and reuse it.
Is it hard to breathe under the mask? Absolutely. But do we have a choice? It is either that or we put ourselves at greater risk of catching the virus.
We wear those masks for hours, we run for codes (when patients' heartbeats have stopped and we need to resuscitate them), we make rounds with it and we talk to families on the phone with it. Then we take it off at the end of our shift, what a relief! We made it and another day awaits us tomorrow.
5. What was the greatest obstacle that you have encountered and how have you overcome it?
I am a woman and a mother in a very demanding and male-dominated career. Out of 7 first year cardiology fellows, I am the only woman. For years, I have either been the "Mother and Wife" cooking, hosting dinners, organizing birthday parties or "The Doctor" working long hours, making life and death decisions that would alter someone's life forever.
I never talked about my "job" to my friends (most of them are not healthcare workers) and I barely ever mentioned my kids to my coworkers. There is tremendous pressure in the medical field to perform and to be the best. You cannot be distracted by having other "interests" outside of medicine! And a family? Who has time for that?!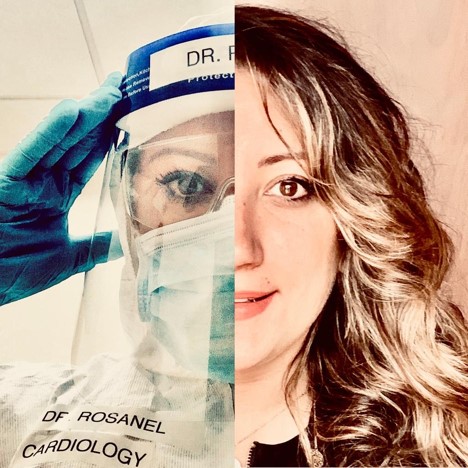 On the other end of the spectrum, being a mother/wife is a full-time job – the homework, the parent teacher conferences, the pressure we put on ourselves to look good, to stay thin, who has time for a full-time career? So, I quietly did both for years, separating the two entities as two different "lives."
Until recently, I have decided to embrace both personalities and to share my medical world with my friends and to share the joy of motherhood and family with my colleagues. Maybe this will help that one young person who wants to achieve great things in life but is held back because of society and industry standards.
Follow Dr. Rosanel online as she continues to share her frontline experience as a doctor and a mother.
Continue to follow Canadian Equality Consulting as we showcase those stepping up as game changers in their industries. Subscribe to our newsletter and follow Canadian Equality Consulting CEO on social media: Twitter and LinkedIn.