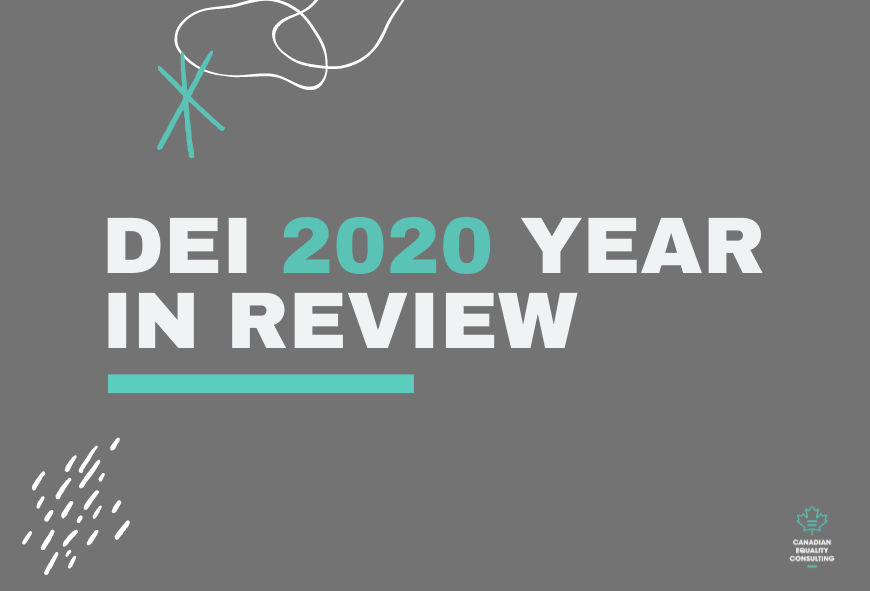 Diversity, Equity and Inclusion 2020 Year in Review
Date: January 06, 2021
2020 was the year of fear, distress, monumental shifts and progression. As we reflect upon the events that took place in such a short time span, it's important to highlight the development of diversity, equity, and inclusion (DEI) that came forward globally during increasingly dark times as well as the opportunities for progress that remain.
Executives Are Confronted with the Need for Change
The brutal murders of Ahmaud Arbery, Breonna Taylor and George Floyd sparked a global political and social movement to seek racial justice and global freedom to Black people. Leaders around the world were confronted about not doing enough to address systemic barriers unique to the Black community.
The horrifying events that took place opened a window for discussion between employees and their leaders to engage in important DEI discussions. We began to see a rise in DEI professionals being appointed into leadership positions to incite equitable change within their organizations. From implementing Employee Resource Groups (ERGs) and working authentically to improve allyship, significant progress was made. Moving forward, companies will need to re-assess their workplaces to ensure enough resources are given to DEI professionals within their companies, continue to have open and honest conversations, and monitor and evaluate their progress.
Women Leaders Shine in Response to COVID-19
COVID-19 has brought forward global tragedy and health inequalities, specifically targeting Black, Hispanic and Indigenous populations as the most at-risk populations. The impacts of the global virus are also disproportionately impacting other underrepresented groups, including racialized women and LGBTQ2S+ individuals. At Canadian Equality, we have often stressed the issues met with not regressing on diversity, equity and inclusion efforts with COVID-19.
As a result, women leaders stepped into the forefront to create positive change. Research suggests that COVID-19 outcomes were significantly better when it came to countries where women led. We saw the election of US Vice-President Kamala Harris in November. We also saw women leaders take charge in New Zealand, Germany, Finland, Bangladesh, among others take quick and decisive actions to address the disproportionate impact of COVID-19 on women.
Scotland is First in the World to Make Period Products Free
In November, Scottish Members of Parliament (MSPs) unanimously passed the Period Products (Free Provision) (Scotland) Bill which requires local authorities to keep period products obtainable without cost. It also ensures that any education provider is required to provide free and accessible period products to students.
This is a huge milestone and responds to the global issue of period poverty – the inaccessibility of period products for those on low incomes and the shame surrounded with mensuration present in certain countries.
The Largest Canadian Study of Board Diversity is Published
A study conducted by Ryerson University's Diversity Institute, Diverse Representation in Leadership: A Review of Eight Canadian Cities , uncovered just how much work needs to be done when it comes to opportunities for diversity and inclusivity in boards.
The study goes through a comprehensive analysis of how women, Black individuals and other racialized populations on boards and in leadership across eight cities in Canada are represented. The board-related experiences of people who identify as Indigenous, LGBTQ2S+, and persons with disabilities are also qualitatively analyzed. The findings suggest a lack of representation for Black, Indigenous and Women of Colour in positions of leadership. Alarmingly, the study also uncovered a lack of data when it came to the representation of Black people within boards.
This study is a step in the right direction to begin to inform and develop diversity on boards. Although there is still more work to be done, it pushes us to uncover and face our biases and privileges.
Infographic timeline of 2020 year in review
The Government of Canada Supports Anti-Racism Projects in Yukon in December that aim to target the systemic barriers that limit Indigenous peoples, racialized communities and religious minorities from any participation in a Canadian society. This is particularly important to forward progress on eliminating instances of Missing and Murdered Indigenous Women and Girls through the federal government's 231 calls for justice. Yukon has since released a strategy in response.
Among 85 other projects announced through the program in Yukon, there was an initiative to build awareness around the impact of racialized structures and processes in the justice system and to create capacity to respond to racism through culturally relevant services for the Kwanlin Dün First Nation.
These initiatives promote the strengthening of diversity and inclusion, which is fundamental to building a more inclusive society as a whole.
The Future of Work is Now
With the fabric of the workplace undergoing major shifts due to factors like the pandemic, employers are having to reassess how they create and maintain workplace cultures that are diverse, inclusive and equitable.
Research shows that the increased reliance on technology seen in 2020 due to remote working has disproportionate impacts when it comes to access, leaving many underrepresented groups at a disadvantage to feeling included in the workplace.
Furthermore, as the use of data analytical processes grow and with it the use of AI technology, it becomes necessary for organizations to understand and identify biases in their systems that may be perpetrating damaging and detrimental stereotypes. 2021 is a pivotal year for companies and individuals alike to move forward in actively participating in allyship, assessing one's own privilege, and engaging in meaningful sponsorship, mentorship and conversations. 2021 is the year we address real systemic issues in Canada and globally to build a more inclusive and equitable future for all.